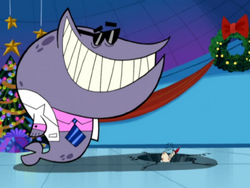 Agent Moby is a whale agent who appeared in A Doomed Christmas. Like Agent Jumbo, he smashed The Chief by accident. He is voiced by Matthew W. Taylor.
Trivia
His name is a reference to Moby-Dick.
Despite being an underwater mammal, he seems to not have any problems staying out of water, as well as moving around.
Matthew W. Taylor is the same actor who voices Verminious Snaptrap.
Ad blocker interference detected!
Wikia is a free-to-use site that makes money from advertising. We have a modified experience for viewers using ad blockers

Wikia is not accessible if you've made further modifications. Remove the custom ad blocker rule(s) and the page will load as expected.