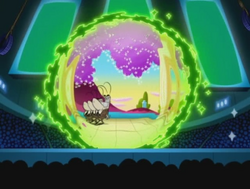 Chief-topia is an alternate universe that was only shown in Monkey Business.
About
Chief-topia seems to be a utopia where fleas (who look exactly like The Chief) are very huge. While The Hunky Monkeys were performing during a concert, the Chief tried to enter that world, ignoring Keswick's warning that if someone from one universe entered another, then the other universe would be destroyed. But thanks to Dudley's howling, he was able to close the portal to the world, ruining the Chief's plan.
Trivia
Ad blocker interference detected!
Wikia is a free-to-use site that makes money from advertising. We have a modified experience for viewers using ad blockers

Wikia is not accessible if you've made further modifications. Remove the custom ad blocker rule(s) and the page will load as expected.