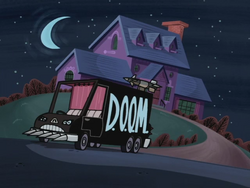 The D.O.O.M. Mobile is the main vehicle, which is owned by Verminious Snaptrap and the members of D.O.O.M. So far, it has appeared in Purr-fect Partners, Operation: Happy Birthday, Dog Dish, Mind Trap and House Broken. In Purr-fect Partners, Dog Dish and Mind Trap, the D.O.O.M. Mobile appears normally, while in Operation: Happy Birthday, it appears to be fully armored. In House Broken, The D.O.O.M. Mobile returns, but this time it becomes a fake "D.O.O.M. limo" while the guys pick up Kitty, Keswick and The Chief by taking them on a fake airplane ride to Hamsterdam.
Shown in
Gallery
Ad blocker interference detected!
Wikia is a free-to-use site that makes money from advertising. We have a modified experience for viewers using ad blockers

Wikia is not accessible if you've made further modifications. Remove the custom ad blocker rule(s) and the page will load as expected.