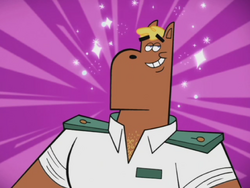 Eric, also known as the Water Delivery Guy, is a character who has appeared in Forget Me Mutt, Dog's Best Friend, Diary of a Mad Cat, 'Til Doom Do Us Part, Mutts and Bolts and TUFF Sell. Kitty finds him attractive and even offers him her phone number. In Dog's Best Friend, he actually spoke for the first time and revealed that he and Kitty were going to go on a date, but he got smashed by a mallet and was seriously injured. In Diary of a Mad Cat, Bird Brain mind controlled him in order to combat Dudley and Kitty so that he could steal a flying contraption from the Petropolis Airspace Museum. He is voiced by Daran Norris.
Appearances
Trivia
Gallery
Ad blocker interference detected!
Wikia is a free-to-use site that makes money from advertising. We have a modified experience for viewers using ad blockers

Wikia is not accessible if you've made further modifications. Remove the custom ad blocker rule(s) and the page will load as expected.