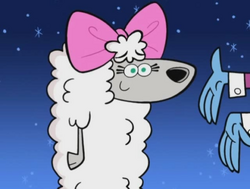 Ewe is one of Bird Brain's more recent henchmen. She is a sheep with white fluffy wool and a pink hairbow who first appeared in Monkey Business. She is voiced by Grey DeLisle.
Appearances
Trivia
It is unknown if she will appear again.
A "ewe" is a female sheep.
Ewe's name is a pun; it's a homophone of the word "you".
She is the second female to be in Bird Brain's group; the first female is Zippy.
Gallery
Ad blocker interference detected!
Wikia is a free-to-use site that makes money from advertising. We have a modified experience for viewers using ad blockers

Wikia is not accessible if you've made further modifications. Remove the custom ad blocker rule(s) and the page will load as expected.