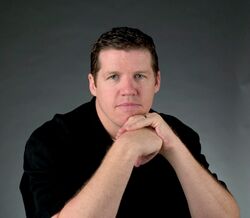 Guy Vernon Moon is an American composer. He has written music for numerous films and animated television series, such as Johnny Bravo, Cow and Chicken, The Grim Adventures of Billy and Mandy (first season only), The Fairly OddParents (for which he received an Emmy nomination), Codename: Kids Next Door, Danny Phantom, Tak and the Power of Juju (theme music and three episodes only), Big Time Rush, T.U.F.F. Puppy, and Back at the Barnyard. He is also credited with composing and orchestrating the music for phenomenally famous The Real Adventures of Jonny Quest animation series produced by Cartoon Network and Hanna-Barbera Cartoons Inc, and has worked on all three of Butch Hartman's Nickelodeon cartoons.
Ad blocker interference detected!
Wikia is a free-to-use site that makes money from advertising. We have a modified experience for viewers using ad blockers

Wikia is not accessible if you've made further modifications. Remove the custom ad blocker rule(s) and the page will load as expected.