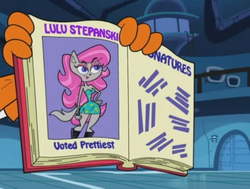 Lulu Stepanski is a graduate of Petropolis High School, like Dudley. She was voted "prettiest girl" at the school as shown in the yearbook. It isn't revealed how, but apparently sometime after graduation, she suffered a major accident, which resulted in her being completely hairless. Everyone thought Kitty was her, as Kitty disguised as her for an undercover mission. She was only mentioned and seen in Dudley's yearbook in Big Dog on Campus. Not much else is known about her.
Ad blocker interference detected!
Wikia is a free-to-use site that makes money from advertising. We have a modified experience for viewers using ad blockers

Wikia is not accessible if you've made further modifications. Remove the custom ad blocker rule(s) and the page will load as expected.