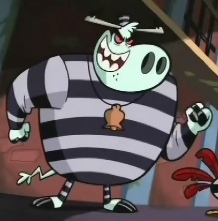 For other uses, see Mad Cow (disambiguation).
Mad Cow is a bull who's an inmate at Petropolis Prison. He was first seen as prisoner who escaped in Snap Dad. However, in Dog Dish, he was shown to be in jail again. It's possible that he was captured off-screen. He almost escaped with the help from D.O.O.M., but was stopped by Dudley Puppy and Kitty Katswell. He was also briefly seen behind bars in Doom and Gloom.
Appearances
Trivia
Gallery
Ad blocker interference detected!
Wikia is a free-to-use site that makes money from advertising. We have a modified experience for viewers using ad blockers

Wikia is not accessible if you've made further modifications. Remove the custom ad blocker rule(s) and the page will load as expected.