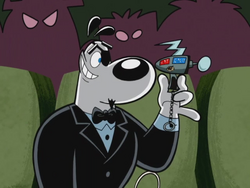 The Mini Raygun is a miniature high-tech ray gun that was shown in The Doomies. The weapon has a dial with two settings: hot (heat) and cold (freeze). The weapon was given as a gift to all guests in attendance at The Doomies — an awards show for supervillains. At the end of the episode Kitty uses it to melt the ice-block and wash out the villains.
Gallery
Ad blocker interference detected!
Wikia is a free-to-use site that makes money from advertising. We have a modified experience for viewers using ad blockers

Wikia is not accessible if you've made further modifications. Remove the custom ad blocker rule(s) and the page will load as expected.