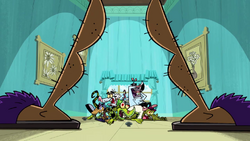 Mrs. Ungerman is the Chameleon's neighbor. She has not appeared yet, but is sometimes mentioned by the Chameleon. She was also heard screaming in Hot Dog from the heat. This was confirmed to be her when the Chameleon says "Walk it off, Mrs. Ungerman!"
Trivia
She goes to pilates until 5 PM and holds costume parties every year.
Mentioned In
Ad blocker interference detected!
Wikia is a free-to-use site that makes money from advertising. We have a modified experience for viewers using ad blockers

Wikia is not accessible if you've made further modifications. Remove the custom ad blocker rule(s) and the page will load as expected.