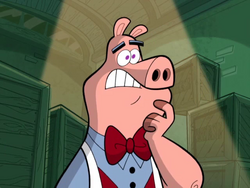 Percival was The Stink Bug's "not so evil" intern who first appeared in Law and Odor. He is a good-natured pig who speaks with a slight Southern accent. It turned out he mistakenly applied for the job without reading the description. His recurring suggestions of cleanliness, caution behind the steering wheel, and his failure to do evil leads to him being fired near the end of the episode. At the very end, he was hired for an internship at T.U.F.F. HQ. It is unknown if he will make another appearance. He is voiced by Will Matthews.
Gallery
Ad blocker interference detected!
Wikia is a free-to-use site that makes money from advertising. We have a modified experience for viewers using ad blockers

Wikia is not accessible if you've made further modifications. Remove the custom ad blocker rule(s) and the page will load as expected.