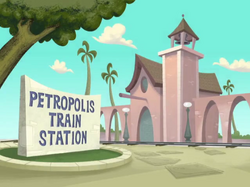 The Petropolis Train Station is a train station in Petropolis. The train station is next to a railroad that leads in and out of the city to other places such as Petsburgh, and other cities just outside Petropolis. The train station was only seen in Guard Dog.
Trivia
The vegetation gives us a clue that the city is placed in a mixed-tropical zone with a warmer climate that might be typical of Southern California (since Petropolis is located in California).
Trains have been featured in Frisky Business, Iron Mutt, and Guard Dog.
Gallery
Ad blocker interference detected!
Wikia is a free-to-use site that makes money from advertising. We have a modified experience for viewers using ad blockers

Wikia is not accessible if you've made further modifications. Remove the custom ad blocker rule(s) and the page will load as expected.