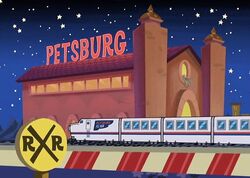 Petsburg is a city that's connected to Petropolis by a railroad. It could be possible that the city is in Pennsylvania, considering it's a parody of a city that is located there. The city's train station was, however, the only thing seen of the city. It only appeared in Guard Dog. In A Doomed Christmas, it was shown that T.U.F.F. has a transportation tube leading to Petsburg. This tube may have been installed between the events of Guard Dog and A Doomed Christmas to save hassle.
Trivia
Gallery
Ad blocker interference detected!
Wikia is a free-to-use site that makes money from advertising. We have a modified experience for viewers using ad blockers

Wikia is not accessible if you've made further modifications. Remove the custom ad blocker rule(s) and the page will load as expected.