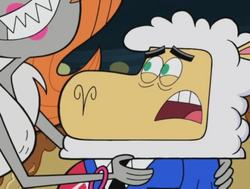 The President of the Universe is a graduate of Petropolis High School, like Dudley. He only appeared in Big Dog on Campus and his fiancée is Rachel O'Foxy. He is voiced by Daran Norris.
Trivia
It's unknown whether he actually presides over the universe. More than likely, his name is an overstatement of his power. He could just be President of the United States.
Gallery
Ad blocker interference detected!
Wikia is a free-to-use site that makes money from advertising. We have a modified experience for viewers using ad blockers

Wikia is not accessible if you've made further modifications. Remove the custom ad blocker rule(s) and the page will load as expected.