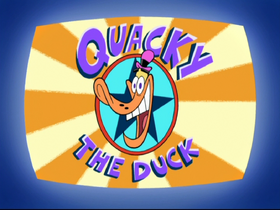 For other uses, see Quacky the Duck (disambiguation).
Quacky the Duck was a TV show aimed at preschoolers. Dudley Puppy, Kitty, Keswick, and The Chief are known to watch it, Dudley even being the president of its fan club. It is also against internet fraud.
In Lucky Duck, the show is canceled by the President of the TV Network. As revenge, Quacky tries to destroy a satellite, which will cause television to end for good, but is stopped. However, the show gets high ratings again, so it is continued while Quacky is in prison.
However, in Lights, Camera, Quacktion, it was revealed that the show was cancelled for good.
Characters on the Show
Ad blocker interference detected!
Wikia is a free-to-use site that makes money from advertising. We have a modified experience for viewers using ad blockers

Wikia is not accessible if you've made further modifications. Remove the custom ad blocker rule(s) and the page will load as expected.