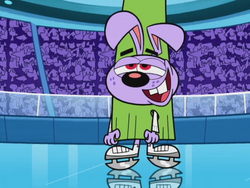 Slush Hup is a rabbit and Snowflake's brother. He is highly dim-witted, talks in a hillbilly accent, and dresses up like a celery stalk and has a rash on his stomach (which he thinks is a tattoo of Tiffany Rose Amber Heather). He shows up with Snowflake in Chilly Dog.
He is voiced by Dave Boat.
Appearances
Trivia
Slush doesn't seem to be evil, he's just stupid.
Snowflake claims that Slush is dumber than a box of hair, which is true.
Gallery
Ad blocker interference detected!
Wikia is a free-to-use site that makes money from advertising. We have a modified experience for viewers using ad blockers

Wikia is not accessible if you've made further modifications. Remove the custom ad blocker rule(s) and the page will load as expected.