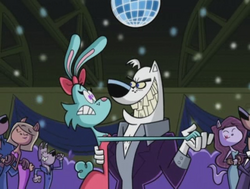 Spike is a graduate of Petropolis High School, like Dudley, who is only shown in "Big Dog on Campus." From what was shown in the episode it seems that Spike was a big delinquent, and was voted to destroy the High School Reunion. He was a prime suspect in the episode, but the speculation was proven false after he gets crushed by the disco ball on the dance floor.
Trivia
Spike bears a striking resemblance to Bad Dog.
He also has a small resemblance of body constitution with Dudley.
It is shown to force women to dance with him.
He threw eggs at Dudley which shows that he is a bully.
Gallery
Ad blocker interference detected!
Wikia is a free-to-use site that makes money from advertising. We have a modified experience for viewers using ad blockers

Wikia is not accessible if you've made further modifications. Remove the custom ad blocker rule(s) and the page will load as expected.