Home
Talk

9
1,482pages on
this wiki
T.U.F.F. Puppy Wiki contains

SPOILERS

relating to

T.U.F.F. Puppy

and its licensed media.
If you are new to this wiki, then

PLEASE

take note of our

policy

!

Join the Chat
T.U.F.F. Puppy Wiki Network
Recent and Upcoming Episodes

Previous new episodes
Upcoming new episodes
"Close Encounters of the Doomed Kind" / "Golden Retriever"


Premiered on Nicktoons on December 27, 2013 (US) (8:00pm ET)

Snaptrap and D.O.O.M. steals an alien ship and uses its weapons to wreak havoc on Petropolis. (read more)

D.O.O.M. searches for a gold nugget in a town from the Old West, and their actions could result in the town collapsing. (read more)

"'Til Doom Do Us Part"
Premiered on Nicktoons on February 14, 2014 (US) (9:00pm ET)

Snaptrap, D.O.O.M, and the Chameleon are stealing gifts at weddings. Dudley and Kitty must get married in an attempt to stop them. (read more)

"T.U.F.F. Choices" / "Sob Story"


Coming soon on Nicktoons (US)

Snaptrap uses a indecision ray on T.U.F.F., causing Dudley, Kitty, The Chief and Keswick not being sure about doing anything, even arresting the villains. Now, Snaptrap wants to use the indecision ray on the whole city of Petropolis. (read more)

Dudley cries purposely to get what he wants. (read more)

"TUFF Sell" / "Tattle Tale"
Coming soon on Nicktoons (US)

Snaptrap buys T.U.F.F. HQ, only to be annoying enough to make Dudley, Kitty, Keswick, and the Chief quit. With Dudley being the only one who is still liking working, Snaptrap acquires the four T.U.F.F. keys from him and the others, allowing him to shoot a missile to destroy the factory that produces his favorite toys, the Hippocopami, and increase the value of his collection. (read more)

Meerkat and Escape Goat send Wanna-Bee to T.U.F.F. in order to spy on Dudley, so he could denounce him to The Chief if he did something wrong. After sleeping at work twice, Dudley (along with Kitty) is sent to T.U.F.F.'s detention, where a robot teacher forces them to study Geometry. Meanwhile, Meerkat plans to use an earthquake generator to destroy Petropolis. (read more)
Contributors Celebrating their Birthdays this Month
Featured Article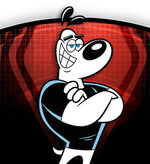 Dudley Puppy is the main character and titular protagonist of T.U.F.F. Puppy. Although he is still just a pup, Dudley's got the heart of a pack of full-grown dogs. He has no fear and he has no pants. Reared on his mother's strict morals, he was born to stop all badness and meanness in its tracks! Now if only he could figure out how to follow that last rule…

Though chasing bones may excite him more than chasing bad guys, Dudley gives all he's got to keeping the streets of Petropolis crime-free. But that doesn't mean things always go smoothly. Dudley's a loose cannon and has a way of messing things up before he fixes them. That's why the Chief paired him up with his "purr-fect" partner, Kitty Katswell. Together, they're bringing D.O.O.M. down, one thug at a time.

Dudley Puppy is voiced by Jerry Trainor, who is best known for his role as "Crazy Steve" on Drake & Josh, as well as "Spencer Shay" on iCarly, both of which are Nickelodeon series. (read more)
Random Image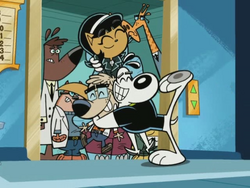 Wiki Poll
Do you think T.U.F.F. Puppy should be renewed for a fourth season?
Headlines
Loading RSS data...
( Refresh | More news... )

Create blog post
'Til Doom Do Us Part premieres on February 14, 2014 at 9:00pm ET




http://tvlistings.zap2it.com/tv/tuff-puppy-til-doom-do-us-part/EP013228200070?aid=zap2it

Read more >


According to tweet from voice actress Grey DeLisle the show will end in this year.

So this is sad news for community of the show.




Source: https://twitter.com/GreyDeLisle/status/423183679846768641

Read more >
See more >
( TUFF Puppy News | More Blogs )
Create blog post
So have any of you heard of the Time to Play promotion that Fairly OddParents Wiki participated in? You can read about it at the link below.

http://community.wikia.com/wiki/User_blog:Nblonkenfeld/Time_T…

Read more >

Due to the recent and repetitive controversy over the events in Love Bird involving the introduction of the new character, Becky, we have decided to disable article comments (there's no way to disabl…

Read more >
See more >
( More T.U.F.F. News Blogs | More Site News Blogs | More Blogs )
We are also currently building communities in the following languages:
Español     Deutsch