Herbert "The Chief" Dumbrowski


Gender:
Male
Eye color:

     

Black
Species:
Flea
"Ahhh... those were the days. Beating up bad guys and blasting narrators."
—The Chief, Internal Affairs

Chief Herbert Dumbrowski, more commonly known as the The Chief or simply Herbert by his close associates, is a main character in T.U.F.F. Puppy. In Internal Affairs, it is revealed that his full name is Herbert Dumbrowski. Whoops! We shouldn't have said his name because that's private. He was once T.U.F.F.'s number one agent during his youth. But as he became the chief, he succumbed to various age-related detriments, including a bionic foot, artificial hip, false teeth, and short-term memory loss.
Although he is small, he still retains combat skills, as well as super strength for a flea, considering he is able to judo-flip criminals as big as gorillas.
Description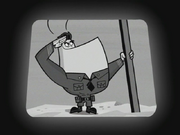 The Chief may be smaller than a penny, but he packs the punch of an angry bull. A grumbly, no-nonsense, battle-scarred flea, this tough-talker has seen and done it all. To make sure he gets his points across to his crime-fighting friends, the Chief uses a video camera rigged up to a floating big screen TV to always appear larger than life.
And it works! When the Chief speaks, EVERYBODY listens. Thanks to him, T.U.F.F. is a well-oiled machine and D.O.O.M. agents are too busy running for their lives to make too much trouble. The only loose end he can't seem to tie up is his reckless new recruit, Dudley Puppy. The Chief would love to keep a closer eye on him, but Dudley's flea collar makes that harder than you'd think![1]
Personality
The Chief is known to act like, well, a chief. He is always commanding the gang to orders of which they are capable or known of.
The Chief hires T.U.F.F. agents on the spot quite easily, as he did with Dudley and Snaptrap, despite the circumstances of their past battles. Even though he's blunt, abrasive, grumpy, and forgetful at times, the T.U.F.F. agents still look up to him, or down, depending on if he's using a video monitor to broadcast orders or not. The Chief is a little past his prime and has false teeth, a toupée, and a bionic foot. Despite these traits, he is shown to have a strong will and a take-charge attitude.
Interactions with Other Characters (Alphabetically)

The Chameleon
The Chief has a small rivalry with the Chameleon, though in Internal Affairs he easily beats up The Chameleon. In Lucky Duck, The Chief shows little interest in The Chameleon's plan to blow up Pluto due to his interest of the show, Quacky the Duck.

Dudley Puppy
In Internal Affairs, the Chief was Dudley's partner after Dudley got shrunk by Keswick's shrinking ray. The Chief sometimes gets a little irritated by Dudley and the crazy things he does, as seen in Mission: Really Big Mission, shutting him up with the Fist-in-a-Box, after he lost his Space Jerky.

Keswick
The Chief has a special relationship with Keswick. In Diary of a Mad Cat, The Chief and Keswick were partners.

Kitty Katswell
The Chief seems to have more trust in Kitty when compared to Dudley.
Verminious Snaptrap
Being a villain, the Chief also has a small rivalry with him.
References