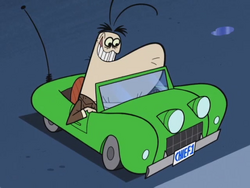 The Chief's car seen in Dog Daze. It's a small green convertible used by The Chief in the episodes Dog Daze, Internal Affairs, Mind Trap, Frisky Business and The Curse of King Mutt
Trivia
It was destroyed once in Dog Daze by a bottle cap.
It was buried by Dudley in The Curse of King Mutt.
It resembles the Mark I generation of the Austin-Healey Sprite.
It is The Chief's first new car in twenty years.
It is shown in Internal Affairs that the car has an automatic transmission.
Gallery
Ad blocker interference detected!
Wikia is a free-to-use site that makes money from advertising. We have a modified experience for viewers using ad blockers

Wikia is not accessible if you've made further modifications. Remove the custom ad blocker rule(s) and the page will load as expected.