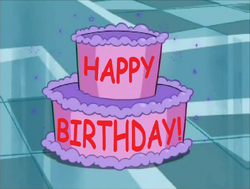 As you know, there's a section on the home page and on the community messages that lists the birthdays of certain contributors of the current month. If you're birthday is coming up, or if it has passed but you want it to be featured for next year and afterwards, please leave a comment that shows your month and day of birth. However, we prefer that you leave out your year of birth for privacy and protection purposes. You also must be a registered contributor and must not be currently blocked/banned.
Ad blocker interference detected!
Wikia is a free-to-use site that makes money from advertising. We have a modified experience for viewers using ad blockers

Wikia is not accessible if you've made further modifications. Remove the custom ad blocker rule(s) and the page will load as expected.